About Us
Gwiddle Host is a service operated by The Gwiddle Foundation, a UK charity aiming to advance Computer Science education around the world. We started Gwiddle because we felt that there was a void in current offerings – new web developers needed to get their work out there, but didn't know how. We are constantly aiming to solve that problem by providing a stable platform for learning and hosting so the next generation can be inspired, alongside our other tutoring and online learning services.
Today, we are home to hundreds of students who are taking their first steps in web development, sharing and improving their skills. Supported by Mythic Beasts, we are ready and waiting to support the next generation. We're always open to suggestions and support. Please feel free to reach out to us whenever you like. You can find information on how to contact us here. :)
If you are interested in supporting our work, you can find out how to donate to the charity and join as a volunteer on the charity website.
Happy developing!
Join The Team
Interested in becoming part of the crew that makes Gwiddle what it is? Check out our Volunteer Opportunities.
Special Thanks
Open Source
Gwiddle is powered by open source software. Please support them as they are what makes us (and many other websites) what they are.
Mythic Beasts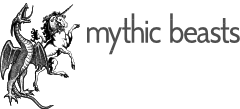 Mythic Beasts support Gwiddle's mission by supplying our servers. Many thanks to them - without their support, Gwiddle would not be possible.
Commercial
Many thanks to Atlassian for their kind donation of a community license for JIRA and Confluence.
We also thank Sparkol for their donation of VideoScribe in aid of our marketing efforts.
In-kind
Many thanks to Andrew Cole for providing the doodles that we all know and love that are featured on the Gwiddle site. Although he is up to other things now, he is still very much part of the Gwiddle family. Thank you!